Often new members ask us if there is a way to import all their past runs from their GPS device. To date, we haven't had a facility to import runs in bulk, but we're pleased to announce that we have just introduced a new tool to do this.
The Import GPS History tool, will upload up to 300 routes and runs at a time from a single TCX file, directly to your GRG Log Book. You can export your runs into a TCX file using the Garmin Training Center software that comes with most Garmin watches. Some other applications also provide a facility to export to a TCX too, although regrettably Garmin Connect only allows you to export one run at a time at present, so unfortunately we don't have a way to import from there yet. We'll report back when we've developed something for this.
This is a screenshot of the new import tool, which can be found on the Upload from a GPS page (under the Log Book menu):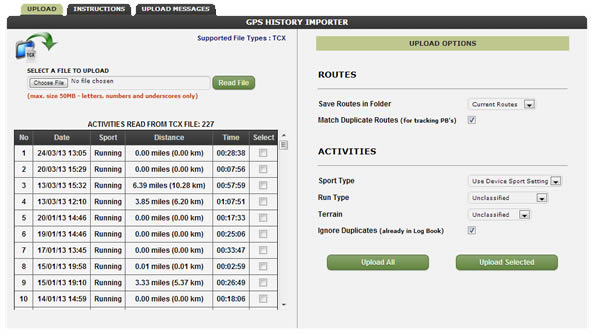 Runs and routes are automatically named as they are uploaded, using the date of the run, but you can easily rename them afterwards from your My Routes page. The import tool will also match runs and routes being uploaded with existing ones you have in your Training Log to avoid duplicates and flag PB's for routes run more than once.
While primarily developed as a way for new members to import their past runs when they join, the tool can of course be used by any member as a way of importing their runs.
We hope you'll find the new tool useful and welcome any feedback from anyone using it.