About Us
Good Run Guide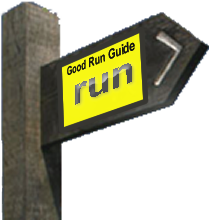 Good Run Guide is an independent, UK-based business launched in 2006 by a small group of people with a passion for running. Its aim is to provide guides to the best running routes around the UK together with an integrated suite of user-friendly training tools.
The idea for Good Run Guide came about when one of us was looking for good routes to run while away from home and found that there was little reliable information around and what information existed wasn't really suitable for use by runners. There were numerous walking guides but these tended to be difficult, if not impossible, to follow at any speed and didn't include all the information you needed as a runner.
So, Good Run Guide was set up to take on the ambitious task of creating a UK-wide database of good quality routes with easy-to-follow route guides. Each week we add new routes and enjoy clocking up our mileage to bring you recommendations for great places to run all over the UK. Of course we are always on the lookout for new ideas so if you have any requests or suggestions of places we should be exploring please let us know and we will endeavour to get running there.
Although Good Run Guide was conceived around the idea of a database of good quality route guides, it became clear fairly soon after launching the site that it would be useful to include a suite of training tools to link in with the routes. So, the content of the site has evolved considerably since its conception and the route guides are now complemented by lots of useful tools, information and advice developed from our own experience and feedback from Members.
The People
Good Run Guide is run (forgive the pun!) by its founders, Louise Piears, John Piears and Andy Bickerstaff. We are a group of dedicated runners of many years standing who have between us trained for all types of events and at all levels - from charity runs, to club races, to fell races, to marathons, to ultra-distance events. So, we know how important it is to keep that training going and not to get too stale. With this in mind we've tried to produce a service that is both inspirational and motivational, to help you to get the most from your running.

Louise started running in 1997, a year after her first child, Charlotte, was born, to get fit and lose weight. Within a few months, she had entered a Fun Run, joined a local Running Club (Ranelagh Harriers) and, like many other runners, found that running had became an important part of her life.
Although taking a break when pregnant with her next child, Daniel, she was soon up and running again, taking part in countless fun runs and races – anything from 5K road runs to hilly cross-country runs, to marathons. Following on from her positive experience of running, Louise is keen to promote the sport to all and takes a keen interest in the beginners' section and those areas that are not just for 'speedy' types.

Andy started running after a discussion involving increasing waistlines in his late 20's. He caught the bug immediately and has been running seriously for the last 20 years, some of the time at good Club and County level. After spending a couple of years churning out 10k's and half marathons he discovered cross-country and had found his niche - the joys of off-road running where the clock is not so important. Andy loves exploring the countryside and running on softer surfaces, preferably with a sprinkling of hills and usually with a smile on his face and a cheery wave to all and sundry.
Over the years he has been good (or lucky) enough to win races at his beloved cross-country but also on the fells and track. So, when Louise came up with the idea for Good Run Guide it was a great way to indulge his love of running through the countryside and at the same time share his passion for exploring lesser known areas of the UK with other runners.

John has been an occasional runner for about 20 years and mainly runs to keep fit rather than run competitively, enjoying the fresh air, open countryside and fantastic views that the Great British landscape has to offer.
As the technical brains behind the website John currently spends most of his energy on developing and running the website rather than running the routes!
Thank You
We have received a lot of support and encouragement from various people in developing this website so we would like to express our thanks. We are grateful to everyone who has helped in any way and we hope that you enjoy using the site as much as we do!
We would also like to take this opportunity to thank Yusuke Kamiyamane for providing an excellent set of icons.
And Finally!
We've tried to explain in words what Good Run Guide is all about, but sometimes pictures do it better. Take a look at this wonderful short animated film about running by the very talented James Jarvis, which reminds us that there is a world out there to explore and enjoy, and running is a great way to see it.