What's Popular Now
Get Advice On....
Popular Calculators
---
Run for You
---
Good Run Guide is run solely for its members - we're completely independent and don't include any advertising or sponsorshsip on the site. To fund our costs we charge a small annual subscription for Full Membership, which we feel gives you a far better experience than having adverts taking up space on the page and us having to constantly pester you with marketing offers. We hope you agree!

Join the thousands of people who have already signed up and try out membership today.
Far More Than Just Great British Runs
As well as offering guides for great running routes and a route measurer to map your own, Good Run Guide also provides a comprehensive set of tools to plan and track your runs and goals.
Set
Goals
Map
Routes
Plan
Runs
Track
Runs
Track
Weight
Analyse
Results
Share with
Friends
Find
Races
---
Example Route Guide - Route 184: Monsal Dale Loop
---
A run with spectacular views across beautiful Monsal Dale in the Peak District. The route follows the course of the River Wye on the outward section, climbs steeply away and then returns via farm tracks. Finally you will cross the atmospheric Monsal viaduct before a short climb back home. View Guide
---
Demo Training Log
---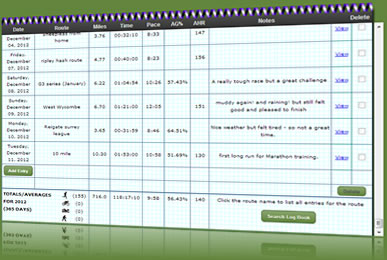 Every Good Run Guide member has their own personal online training log, which can be used to plan and track all your training and races.
The training log integrates with popular Garmin GPS devices and has lots of stats and graphs. It's a fantastic way to motivate yourself, whether you are running competitively, training for a big race, or just running to keep fit.
---
Comments from Good Run Guide Members
---
We are lucky enough to receive regular great feedback about the website from our Members. Here are a some of the comments that we've received.
"What a truly excellent and user friendly site. It is by far head and shoulders above many other similar running sites."
Eric, Surrey
"Great value, lots of content and I like your philosophy of no silly adverts popping up etc."
Martin, Kent
"Just thought I would say how useful I find the good run guide log book, I have been attempting to log my runs for years and have used several different systems and the good run guide is only one I have managed to stick at and gives me the info I want in a very easy to use format."
Nigel, Surrey
"Of all the running websites, I found the Good Run Guide the best by far."
Jude, Manchester
"The Good Run Guide is one of the best training tools I have come across"
Mike, Oxted
> Read more comments and feedback from our Members