Route Buddies Scheme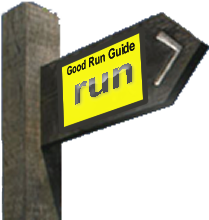 If you're worried about getting lost or would like some company while trying out a new route, our Route Buddies Scheme is here to help! The Scheme has been set up to put Members in touch with other Members who have kindly offered to acts as guides to show people around routes they have suggested.
Our Route Buddies are usually experienced runners with a lot of local knowledge and share our passion for exploring great running routes and promoting running in the UK.
Contacting Route Buddies

Where a Route Buddy is available, this logo will be displayed on the Route Overview. You can contact the Route Buddy using our Contact Form and arrange a mutually convenient time to do the run.
Bear in mind that Route Buddies are volunteering their local knowledge and time for free and are under no obligation to meet up with you so please try to be as flexible as possible when making arrangements for the run. Route Buddies are not employed or vetted by Good Run Guide so any arrangements that you make are entirely at your own risk.
The Route Buddy Scheme is open to all Full Members.
Become a Route Buddy