About Us
Good Run Guide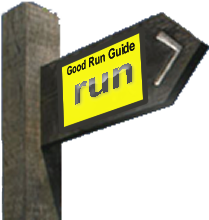 Good Run Guide is an independent, UK-based business launched in 2007. Our first aim was to share our passion for running and to provide guides to the best running routes around the UK together with an integrated suite of user-friendly training tools. However we have since branched out to provide maps and routes for the rest ot the World!
The idea for Good Run Guide came about when we were looking for good routes to run whilst away from home and found that there was little reliable information around and what information existed wasn't really suitable for use by runners. There were numerous walking guides but these tended to be difficult, if not impossible, to follow at any speed and didn't include all the information you needed as a runner.
So, Good Run Guide was set up to take on the ambitious task of creating a UK-wide database of good quality routes with easy-to-follow route guides, which we have very much enjoyed researching and running (and we still get out there when we can). We also compiled a running routes book with a selection of our favourites, to which there is a link below. But of course technology has moved on quickly and we soon developed the facility for members to add and share their own favourite routes, either by uplading from GPS devices or mapping online themselves.
Although Good Run Guide was conceived around the idea of a database of good quality route guides, it became clear fairly soon after launching the site that it would be useful to include a suite of training tools to link in with the routes. So, the content of the site has evolved considerably since its conception and the route guides are now complemented by lots of useful tools, information and advice developed from our own experience and feedback from Members. We are frequently told by our members that our log book and training tools are just the best, which is great to hear! Please feel free to send us your feedback through the contact us page or the forum.
Louise and Andy
Good Run Guide founders and authors of 40 Great Scenic Routes in England and Wales
Thank You
We have received a lot of support and encouragement from various people in developing this website so we would like to express our thanks. Particular thanks go to our loyal members, many of whom have been with us for a long time, some even from the very first launch in 2007. Hopefully your personal accumulated data is as entertaining and useful for you as ours is for us! There's nothing like looking back on one's own achievements and planning more for the future!
We would also like to take this opportunity to thank Yusuke Kamiyamane for providing an excellent set of icons.
And Finally!
We've tried to explain in words what Good Run Guide is all about, but sometimes pictures do it better. Take a look at this wonderful short animated film about running by the very talented James Jarvis, which reminds us that there is a world out there to explore and enjoy, and running is a great way to see it.