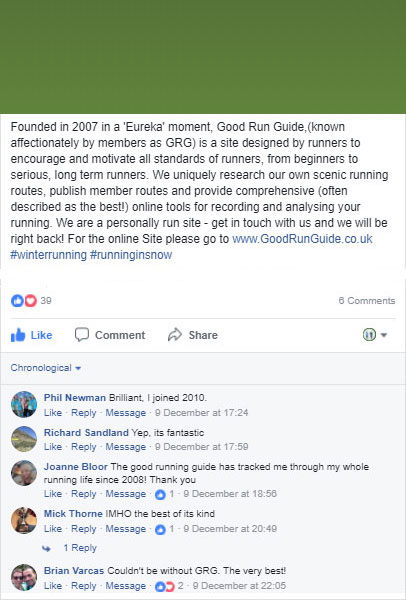 " The best run logging tool out there. UK based and run by runners. It's no exaggeration to say that GRG has made a huge contribution to making me the runner I am today - that's intended as a compliment by the way."
Popular Route Measurer, using Google Maps (but note this is not suitable for use on mobile devices)
Over 13000 recommended running routes including our unique Gold Routes.
Record and Log your activities through Garmin Sync, the Good Run Guide App, our online route measurer or manual upload
Fantastic Graphs and Stats to analyse your Running, Other Activities and races
Age Graded Percentages and PB's flagged on all mapped runs
Training Planner, Goal Tracker, Weight Tracker, Shoe Tracker, Heart Rate Tracker
Keep your routes and activities private or Share if you wish
Community features including league tables and friend comparisons.

Join as a Full Member

£14.95
Paypal Subscription or Card Payment

Join as a Full member for a month

£3
Paypal Subscription Only