Improving With Age
---
It's a simple biological fact that as we get older we can't run as fast as we could have when we were younger. But this doesn't mean we can't improve and become better runners for our age, or even set new PB's if we didn't achieve our full potential in our younger years!
With the right motivation and training, improved running performances can be achieved long after the prospect of new PB's has faded away. But how can you tell if your performance is improving when your times are getting slower? This is where Age-Grading comes in.
Age-Grading is a simple but very effective method of measuring your performance, making allowances for your age and sex. It gives you a percentage score for each run calculated by comparing the time for your run with times set by world record runners of the same age and sex. Benchmark times are collated by World Masters Athletics, the governing body for track and field, long distance running and race walking for veteran athletes, and performance adjustment profiles are produced for various distances and ages for each sex.
The following graph shows an example of how performance levels vary by age for world record runners at the marathon distance.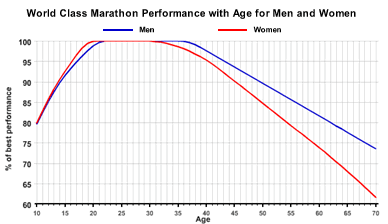 You can compare performance profiles for other common race distances on Good Run Guide with the interactive tool in our main Age-Grading article.
Why is Age-Grading beneficial?
Motivation – Getting slower can be demotivating for runners who are 'past their peak' even if they are running well for their age. So, rather than focusing solely on how fast you are running, it can be more motivating to focus on your Age-Graded performance.
Comparing with other Runners - By factoring out age and sex it is possible for two different runners to compare their performance for the same run on even terms, enabling people to compete with each other regardless of age and sex.
Long-Term Performance Tracking - Factoring out age enables you to see how good your performance is at any time given expected norms for your age. Using this you can track how your performance has changed over the long-term.
Predicting Race Times - You can use you current Age-Graded percentage as a basis for predicting finish times for races of different distances.
Interpreting Age-Grading Scores
As Age-Grading scores are based on a comparison with world record times, don't be disappointed if your scores are a long way from 100%; you'll probably get the most motivation by aiming to improve on your own scores and by comparing your scores with those of your friends. But, the following table provides a general guide to interpreting Age-Grading scores.
| | |
| --- | --- |
| Age-Graded % | Guide to Level |
| 100% | Approximate World Record |
| 90% + | World Class |
| 80% + | National Class |
| 70% + | Regonal Class |
| 60% + | Local Class |
| 50% - 60% | Majority of Runners |
Age-Grading on Good Run Guide
You can keep track of your Age-Graded percentages in your Good Run Guide Log Book – scores can be calculated when logging your runs and even compensate for hills to provide fair comparisons between different types of runs. And, if you just want to calculate an Age-Graded percentage without using the Log Book, you can also use our standalone Age-Grading calculator.
Finally, if you have an iPhone or iPod Touch and would like to be able to calculate an Age-Graded score at any time, even without an internet connection, you can now do this with our new Age-Grading app called "Score My Run" - see the article below for more information.